Keep good resolutions using our Internet service
A new year begins bringing tons of good intentions to apply along with the new resolutions you have set! One of the most popular resolutions is getting back into shape and this year will be no exception. Each time, you swear you won't give up and that you will reach your goal! Did you know that a simple tool is at your fingertips to get you started on the right foot with this great resolution? Your internet connection awaits you.
Plenty of free apps are now available to care for your health in 2020. You only have to download the one that is right for you and you are good to go. To assist you in choosing the right one, here is our selection of simple and efficient apps.
Runkeeper
You want to get outside to get back in shape but you are a beginner?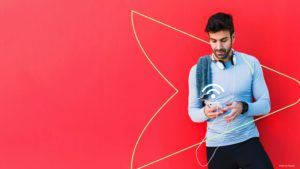 Runkeeper app is for you.  Known to be user friendly, it is ideal for new runners that would like to get more fit.
S Health
You are a little more motivated and wish to monitor your diet in addition to physical activity? The S Health The S Health app allows you to keep track of your lifestyle. Available on Android, this application measures not only your physical activity and your diet, but also your sleep. You can keep a real logbook!
Tone it up
Need a pep talk to start your training session?  The founders of the application Tone it up
get off the beaten path with their encouragement and boundless motivation. Moreover, the app has an alarm that sends you motivation messages!
This is only a sample of applications and you can find many more adapted to your needs by browsing with your Internet connection. No matter which application or mean you will choose to stick with your fitness resolution, remember that it is always easier to keep it when you have fun doing it.